"Full-Service Auctioneers"
T-n-T Auctions is a partnership venture formed by Tate Cobb and Joel Tuxhorn in 2005. Although the company and name are fairly new to the auction industry, we are no strangers to the auction business. Possessing knowledge of selling and passion for auctioneering, we are experienced and professionally instructed auctioneers capable of handling any type of auction.
Whether we are conducting a farm or ranch sale, antique or estate sale, T-n-T Auctions is a full-service auction company. We also provide services for consignment auctions, inventory reductions, going-out-of-business sales and more.
In addition to "bid calling" T-n-T services include advertising prior to the sale, cashier and clerking duties during the sale, and all final settlements. Prior to the sale we are willing to do as much as you want us to do when it comes to sorting, packing and moving your inventory. Let us handle the job and relieve the stress for you.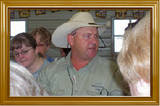 Tate works the crowd for another bid at a recent auction in Guymon, OK.

"Tate and Tux give you more bang for your bucks!"
We thrive on the belief that we can outperform other auction companies from the first meeting all the way through sale day and until we write your check. It is our belief that our expertise in sorting items and setting up the auction site will garner the seller more dollars than our competition. We provide the highest quality services for all of our customers. Our customers are our greatest asset and we are dedicated to meeting your needs.
We are constantly making decisions and fine-tuning our commission rates in order to become even more competitive in today's marketplace. An initial meeting is free of charge, so contact us today.
Of course, no auction is complete without the presence of a large, active bidding and buying audience. We have a solid core of classified papers, newspapers and radio stations on our side to promote all of our sales, as well as a database of over 1,000 names from past auctions to help us distribute sale flyers. Lastly, a mass email is sent to past buyers and those interested in our auctions. We are proud to say that we have a large base of buyers for all types of auctions and more people are joining our mailing list every week.